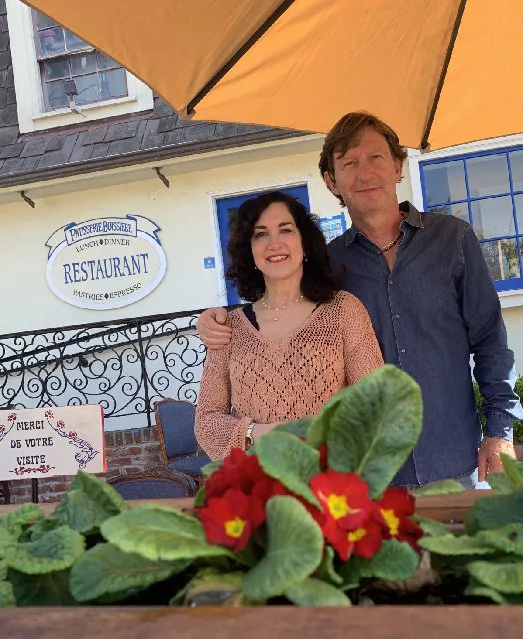 Fifty-five years ago, Elaine and Pierre Boissiere established this legendary restaurant at its current location, years before the Carmel Plaza shopping center was built. The couple sought to offer the city of Carmel by the Sea a relaxing and comforting venue modeled after a European chateau where tables are thoughtfully spaced and fresh flowers, fireplace, candles and soothing musical notes are integral parts of the dining experience. The ambience set the tone for French country food served with a great deal of care and for authentic French pastries baked daily in the kitchen above the restaurant.
Giuliano Costagliola is the latest owner now taking the tradition of Patisserie Boissiere into the next generation. Having primarily worked in French restaurants, Giuliano now has a restaurant of his own, with the perfect fit of European style and service in the idyllic location of Carmel.
Giuliano was born and raised in a small village on the coast near Naples. He studied at the Naples Hospitality University in Italy and started his career traveling all over the globe as Captain of the dining room aboard the Royal Viking Cruise line. He is also fluent in Italian, French, English, German, Spanish and Portuguese.
His career as a Manager, Maitre'd and Captain was shaped in various European establishments including The Savoy in London, The Palace Hotel in Luzern, Beau Rivage Palace in Lausanne, Villa Principe di Leopoldo in Lugano.
Before moving to the states Giuliano also worked in Zurich for the Hotel Marriot, Veltliner Keller, Haus Zum Rudin and the prestigious La Terrassa at the Dolder Grand Hotel.
It was there that he met his wife, Monterey local Lydia Lyons, who was singing at the Dolder Grand during the holidays.
Giuliano has worked at several local restaurants including; Casanova, Bernardus, Andres Bouchee and L'Auberge since he and Lydia moved to California from Switzerland in 2003 to be closer to Lydia's family.
As the new owner of Patisserie Boissiere, Giuliano is looking forward to bringing a fresh new perspective to this local landmark restaurant. Come enjoy the ambiance, excellent food and traditional European service in the heart of Carmel by the Sea. Let Giuliano pick a wine for you. Let your server guide you through our new menu items or pick a traditional favorite. Or pick up some excellent pastry in that white box with the special blue ribbon. Whether you have been dining at Patisserie Boissiere for fifty-five years or are visiting for the first time, we welcome you!
Become a Patisserie Boissiere Insider or follow us on social media to see the latest happenings at the restaurant like special events, music and new menu items.
One of the best things about Patisserie Boissiere is our staff! Many who have been here for over 20 years. From our front of house servers, who remember your name and your favorite order, to our kitchen team, who produces delicious high quality European food and pastry every day, we work hard to ensure you enjoy dining with us. Come order your traditional favorites or try something new and we'll take care of you.